Call Us Today!
+1-603-224-5355
Granite Fundraiser Projects

---
One of the best ways for an organization to raise significant funds for special projects, unforeseen expenses, or add to their endowment is with customized walkways and granite accents. Brick walkways, granite benches, and posts not only enhance the visual appeal of any landscape but they capture the unique thoughts and creativity of those who donate for all eternity.
Star Granite Company has teamed with countless organizations to ensure the success of their fundraiser projects over the past several years. We make the ordering process easy, guarantee that all items are lettered correctly, meet all delivery schedules, and draw on our extensive knowledge of granite to make sure your project looks beautiful.
Contact Star Granite Company to discuss possible fundraising projects. We can prepare sample bricks and other material to help you raise money for your cause.
Lettering

---
All lettering is sandblasted into the medium. Sandblasting provides a much deeper letter than typical laser engraving of bricks. This will ensure a longer lasting walkway. A thin coat of lithichrome paint is applied to the letters to enhance the readability of the text. The paint is specially designed for granite and will not peel or wear.
Graphics

---
Star Granite Company has an extensive collection of graphics that can be applied to any fundraiser item. If you have a special logo or image that you would like to apply to a brick, paver, bench, or post, please send it to us. Our granite consultants can digitize most images. As a rule, if the image looks good in black and white, it can most likely be sandblasted.
Granite, Clay, or Cement Bricks

---
All bricks can have up to three lines of lettering. Each line can have a maximum of fourteen characters including spaces. The letters will be roughly ½ inch high and will be uniform from brick to brick. A one line brick will have the same size and style lettering as a three line brick. This helps to maintain a uniform look throughout the walkway.
Granite Pavers

---
Granite pavers range in size from 6"x6" to 18"x18". Pavers will fit about nine lines of lettering depending on the exact size. Each line can have about twenty two characters including spaces. This is the maximum an average 12"x12" paver can fit. Pavers are generally used as accent pieces in a walkway and generally require a larger donation.
Granite Benches

---
Benches are a unique and functional addition to any fundraiser project. Benches can be lettered either across the front or on the top of the bench. Lettering across the front can restrict the number of letters you can use because of the lack of space. The top of the bench has more area to inscribe on but can take longer to dry after it rains.
Granite Bird Baths

---
An attractive addition to any fundraiser project is a personalized bird bath. Granite bird baths provide a nice rest area for local wildlife.
Although we can special order any shape and size bird bath, we have a few standard designs; an octagonal bath, and round baths with heights varying from 12" to 36". Donor requested lettering or graphics can easily be added to any bird bath to personalize the fundraiser project accent.
Granite Plaques

---
If space is limited for a walkway, benches, or posts, Star Granite Company can design and install a plaque for donor's names. This option provides an attractive alternative to typical projects where donors purchase individual items. All inscriptions would be required prior to the installation of the plaque for lettering purposes whereas other projects can add donors over a longer period of time.
This option also allows for a wider variety of granite and text colors than other projects. Larger graphics can also be incorporated in granite plaques.
Granite Posts

---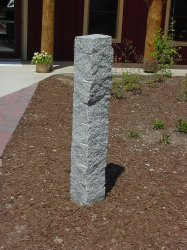 Posts can act as trail markers, fence posts, hitching posts, or plant hangers. Posts can be lettered on four sides. Because of variations in the width and height of posts, it is best to work with our Granite Consultants to ensure inscriptions will fit. Some organizations sell each side to a different donor, others sell the entire post to one donor.